Exploring and observing is always helpful. I always like being fit and eating right. After 11th we usually need to decide what we want to be/ study in college, I was very confused with my carrier option. I thought of exploring the dietitian and nutritionist field. In my summer vacation I went the a dietitian itself in Surat, her name is Mansi Thakkar. I went to her for a month and I sat with her in her cabin till the last client. I observed how she talked to each of them and what questions she asked. I looked how she handled each of her clients and even took notes, about what she recommended when and also how everyday reminders she gave to her clients about following the diet given strictly. She had maintained some files, where she even wrote some of her own recipes. It was interesting to know about this profession and how it works.
LO-2:
There were some challenges I faced and I never thought of. There were sometimes time management problems between us. I had to visit her as per her timings which changed every day. I had to change my routine as per the internship timing every day. Also, there was no fixed time for one session, it was up to her appointments and I had to sit there from the first client to the last. Sometimes I even had to wait for her at the clinic for a long time, which actually wasted some of my time. Sometimes, it was difficult to understand some of the terms she used to explain to her clients, but I managed to understand them by asking her.
LO-3:
Before going to the clinic I always wrote some questions I wanted to ask Mansi ma'am. I used to make my timetable for the next day according to the internship timings as at that time my vacation was going I had other classes to.
LO-4:
Commitment was very important to learn something and do something productive. I was very committed to this internship and attendant the clinic each day without any excuses. It was necessary that I attended each session with full activeness, because it was important to be a good listener to not miss out any point. It actually was easy for me to be committed because it was something of my interested and something I loved, I enjoyed visiting her and I was a good listener every time.
Conclusion:
I learnt a lot of things attending this internship. Two major things were time management and how be an inquirer.Now I know how to ask questions, and specially to someone you have just met. I got to know thing about her job and what if I go for the same in my future. I really enjoyed the experience and would like to do something similar in future.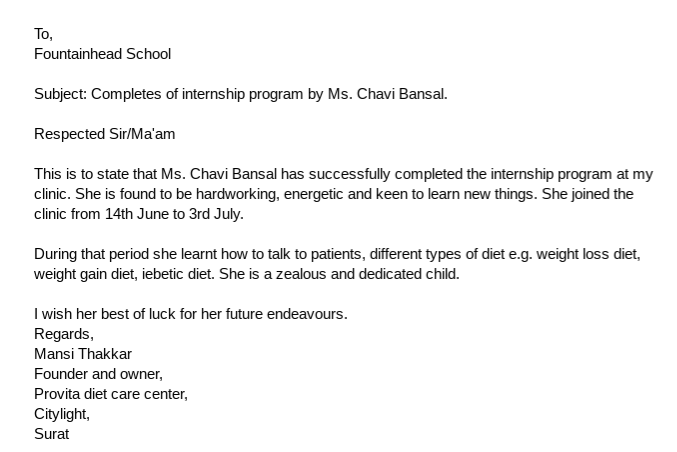 A letter I got after completing my internship.