strands- Creativity and Service
Monsoon musings is a literary event where participants were invited to come and recite any poetries, stories, and songs. Moreover, there was a seva cafe where participants could have food for free. It was a fundraising event and the participants could donate as much money as they wanted to. The money which was collected by us through donations were donated to the NGO, "friends for tails", who work for the betterment of stray animals and the city.
I have achieved Learning outcome 1 by volunteering as the decorations head of the team. My strength is creativity and arts, thus, I portrayed my skills and contributed to making the event look lively. My art skills really helped me while deciding the colors for the decorative materials. The decoration should look visually appealing and decent. However, I faced a problem while playing the role of the decor head. I do not have good leadership skills, therefore, I couldn't convey my idea to the team. I had volunteered to become the decor head to overcome this weakness. This event was indeed helpful for me to become bold and convey my ideas with confidence. My management skills also improved as I was responsible for leading the team and arranging materials for decorations.
The second learning outcome is all about overcoming the challenges faced during the journey of organizing the event. Management was a challenge for me. On the day of the event, there was a bit of chaos because we had to make some last-minute changes. However, we collaboratively worked and completed the decorations on time. This has taught me that it is necessary to manage time and the entire time to make an event successful. 
LO3
I along with one other student were the head of the Decorations team and we were responsible for making decorations from the limited materials that we had. We could plan everything properly but during the execution, we faced difficulties because of the lack of time management.It was difficult for me particularly because of the lack of communication and management skills. Luckily, my team was very cooperative and they did the work assigned to them sincerely. This was experience turned out to be quite good.
LO6
The entire team donated the profit that we earned to the organization "friends with tails" and "missing girls" project as a gesture to help curb the global issues like saving stray animals and empowering girls.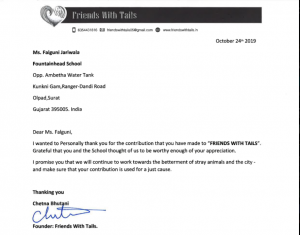 This event was successful only because of the synergy our team showed. Learning outcome 5 was achieved by working collaboratively. Working with a team has always been easier for me because it helps us to come up with new ideas to make the event look extraordinary. This time also our team contributed proactively to make monsoon musings a success. Through teamwork, we could also complete all the work in less time. As mentioned above, without synergy between us, there would have been a lot of chaos. It has also taught me to respect others' ideas without being offended.  
I overcame the seventh learning outcome by donating all the profit that we had learned to the Missing girls' project and the "friends for tails" NGO. This has allowed me to be principled and caring for others. 
Overall, the event turned out to be great and I learned a lot about collaborative and leadership skills. These skills will be helpful for me throughout my life because I will have to work in teams a lot of times and during that time if I know how to collaborate with others and respect my peers the final outcome can turn out to be quite good.