Community service was an activity established by the Fountainhead School in order to support underprivileged children in expressing their talent in various fields offered. Out of those numerous fields, I chose to teach 'cooking because it is something that I really enjoy doing and it makes me feel worthy of myself. We taught them many easy and tasty dishes which they can make easily like bhel, sandwich, chilla, frankie, etc. The service sessions were held for 6 consecutive Saturdays in the month of  July and August.
Learning Outcome 2: Demonstrate that challenges have been undertaken, developing new skills in the process The most challenging part was the patience we had to keep in ourselves when we were teaching those young fellows. Teaching things which were really basic was really challenging as we understood everything about that but I wasn't quite able to convey it to them. Though in the next session, I tried to keep my calm while dealing with the children and was successful in the further sessions also.  Another challenge was to speak english words in gujarati. We tried to translate each word in Gujarati  
Learning Outcome 4: show commitment and perseverance in CAS experiences The fact that it was arranged in six different sessions, with each  one being on different Saturdays had made it very long. There were also other academic related deadlines. So my pressure at the sessions was questionable. It had required me to manage my time and prioritize my work.
Learning Outcome 5: Working collaboratively was very beneficial to us while conducting service sessions. We used to have large groups of students to cater to at once, and while cooking we not only had to make sure every student is participating equally, but we also had to make sure they don't hurt or burn themselves. We decided to split up into two groups and divide students too into two groups and work with them in separate kitchens so that there is less chaos. I did find working with some of my co-volunteers difficult at times as some of them were disinterested and wouldn't cooperate, however, more or less we could still run our sessions smoothly.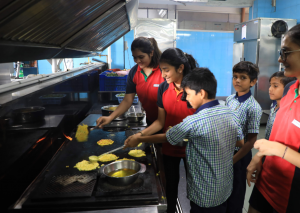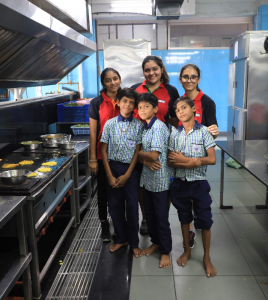 I would take away some great memories of working with those young fellows. It was a really amazing time cracking out their talents. We felt amazed by looking at their skills they were just 9-14 aged kids and still they could easily chop whatever we asked them to and I realized that if they were given better opportunities, then they would be at the top of their work. I would look forward to attending more of these sessions and meeting my dear fellows again!